Meet Kilo!!
He is the "part owner/trainer" at Front Range Cross Fit in Denver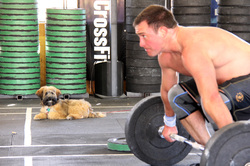 Here is Kilo. He is a red sable Tibetan Terrier. He has wonderful owners that own Front Range Cross Fit in Denver. From day one, Kilo was wanted to not only be a wonderful companion to his new owners, but to become a part of their gym. From early on Kilo was taken to the gym everyday. This is his story....
Here he is overseeing a gym participant. I wonder if he is a hard coach or easy?? Looks hard to me if he is making that gentleman lift all that weight while he lounges in the background.
---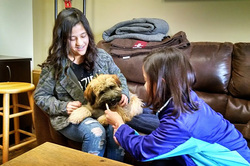 On this day Kilo was in charge of keeping the younger clients busy. A tough day for him!
---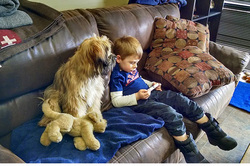 Here is Kilo, again keeping the younger clients entertained, but I think he is trying to learn how to play the game. They are smart dogs and love to learn!
---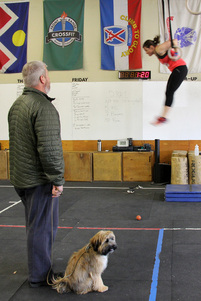 I think Kilo is slacking here in his coaching, or maybe he is thinking, I can't watch, I can't watch....
---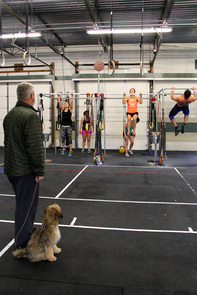 I am told when the gym gets pretty busy Kilo gets to patrol things on leash with his owner. Looks like he is back on the job here in supervising the amount of reps the clients are doing.
---
It is Kilo's life now to be part of the gym. He goes everyday with his owners. Helps open things up, patrols at the end of day and helps keep things going during the day. Tibetans are highly adaptable to the life you will provide them. They love to have purpose and will truly be the best dog there is with love, consistency, and guidelines. They are The Great Companion Dog!
---
Meet Lil Miss Sophie!
Sophie is a spoiled, and very loved Tibetan! Here are some wonderful pictures of her spoiled, relaxed life in her new home. She has even had a haircut and is sportin a new bandana. Pine cones seem to be her favorite chew toy lately, and at the expense of the sharp pieces on the human toes!
Meet Mr. Bruce!
Bruce is in Utah with his new family and learning to be a great companion, hiking buddy and overall a new best friend!