FAQ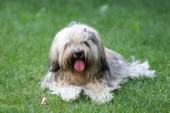 1. How do you raise your puppies? Our puppies are raised in our home. They are whelped in one of our bedrooms, depending where the mother dog is used to sleeping. We create a "cave" type environment in that room for them. It is a nice and quiet as well as familiar environment for the mother dogs and they are quite calm and relaxed in this fashion. When puppies grow and can crawl out of the whelping box they are then moved to our general family living area. They get use to very early on to lots of motion, vacuums, people coming and going, learning to go outside for long walks, playing with the other dogs, cats, learning what it means when lights go out it is bedtime etc. They truly are part of our everyday lives. We do let moms be moms in the very early weeks. Then when it is appropriate we start handling them, loving them, teaching them about belly rubs, start to access their personalities and generally start their lives on a road of security and love. IT DOES MAKE A DIFFERENCE IN HOW THEY ARE FIRST RAISED!

2. How much do you charge? We try and keep it at an amount that a family can afford as well as cover the costs of raising them. There is a big range of prices of Tibetans on the internet. We are in the middle of most. We do have excellent, proven, solid lines behind us and that is very important.

3. Are they seen by a vet? Yes! Our puppies never go home without getting a complete green light from our vet. They also will have all the appropriate wormings, their dewclaws removed, and their first set of shots and bathed, ears and all!

4. What else? We will ask you to send in an old t-shirt or blanket at about 5 weeks so that your puppy can start associating your smells. We will also send home toys, a piece of a blanket they all have been sleeping on, a new puppy packet and samples of the food we feed them.

5. Do you ever donate a puppy? Yes, please call for details. This is usually for charities,(approved homes of course!) for service training dogs and sometimes for homes that really need an allergy friendly dog.

6. Can I come and meet parents? Absolutely! There are no hidden secrets here! All of our dogs are on premises and love visits! The one exception to this is that we do not allow people to see puppies when they are really young. It is for the health of all of our dogs and especially the babes! We will also ask you to wash your hands before handling the puppies and remove your shoes if you choose to get into their playpen with them.

7. What if I cannot keep my dog? Never - Ever should one of our dogs be turned into a shelter or left homeless!! We will always welcome the dog back into our home if needed!

8. Do you have a health guarantee? Yes- we will replace or refund your money within a one year's time period if any life threatening health issues arises that a vet can verify. We will not ask you to return your beloved pet if you do not want to! We will stand behind our dogs in every way that we can. We do everything we can in our power to raise super healthy dogs! We would never let a dog be adopted out if we are aware of any problems! To date we have no genetic issues that have arisen in our lines. We carefully chose our parent dogs and ensured that they were healthy before any babies were even thought about!

9. After we adopt are you available for advice or help? Absolutely! We are always here and if we do not have an answer, we will help find one!

10. Are they registered? Our Tibetans are AKC registered. And any Tibetan should be AKC. This is one way to prove their wonderful lineage. Tibetans have not been in the US long enough for it to be justified to have any other registration. Only AKC can verify their genetic lineage. If they are not AKC, most likely they are not a pure bred Tibetan.

11. How do we get on your list for an upcoming litter? Please contact us via e-mail or phone. We require that we do talk on the phone and there are some questions we will ask, and hopefully you will ask of us. We will also ask for references. Then if we both still feel like it is an appropriate situation, you will be placed on the waiting list if you desire with a 200.00 deposit to hold your place. That will hold your place to come pick out your puppy at the right age, or I will pick one out for you. It is completely your choice.

12 Do you fly your dogs? Sometimes- I will fly them out personally on board with me or drive them if it is close enough. There are extra fees involved with this. Usually we can fly a dog for about 300.00 I will not cargo ship my puppies.

Anything else? Please e-mail me with your questions.