History and Information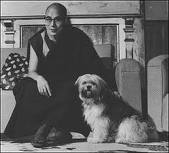 Tibetan Terriers are an ancient breed. Here is a brief history:
High atop the Himalayas, deep in the heart of the lost valley of Tibet, In the Holy City Lhasa, lived a sacred animal for 2000 years raised exclusively by the lamas in the monasteries. These little people were never sold, for a Tibetan to receive one was by a gift of gratitude for a great favor or act of kindness. A Tibetan fortunate enough to have been given a Tibetan Terrier was indeed their caretaker and would never consider selling one, this would be tempting the fate of prosperity by selling ones own luck. Tibetan Terriers were considered charm bringers of good luck and prosperity; all the more by being their care givers. Wrongful breeding was often considered the reason for a persons or village misfortune. In the event a foreigner or dignitary was traveling through Tibet, many times a Tibetan Terrier would be given to the party to safeguard them for the always hazardous and treacherous journey out of Tibet. For these reasons the nicknames, "The Good Luck Dog", "Dog of Prosperity" or "The little people of Tibet" have arose. Only recently does the western world have a chance to share the deep and compassionate experience of being the caretaker of this lovely, rare and ancient breed. To all who share a life with theirs be all the more fulfilled.


The Tibetan is not a true terrier, in fact he is far from a terrier and terrier qualites and dispositions. Rather, this grand dog was a true companion dog. He is consider a "Holy Dog" or a dog that brings luck by the ancient Tibetan people. He lived with monks quite frequently, and were reared almost as children. Their size won their "terrier" labeling by the AKC and that is the only common thread with the terrier family.

These are a healthy breed, especially when bred with health in mind. They are a fun, loving, very loyal friend to have in your hosuehold. They are eager to please and love to cuddle with you. They will romp in the snow like there is no limit, follow you up and over the dusty trails, yet will be the first one to lay next to you when it is time to stop. They are in every form a true companion and friend for life.

Colors: Tibetans can come in all colors. AKC has a few limitations for the show ring, so if you are looking to show, you should check out their website. But in general, all colors, markings etc. are acceptable and desirable.

Coat Care: The coat is a non-shedding coat. It will need to be maintained if kept long. If you are not intending to show, then the coat may be clipped when needed. It is a gorgeous coat when allowed to grow naturally. However a natural coat needs upkeep to keep your Tibetan comfortable, clean, groomed and gorgeous, just like any long haired dog. Tibetans tend to love their grooming times and it is a fun time to spend with your dog washing, brushing, relaxing with them. My little ones almost "purr" with content while we are brushing them out. They lay their heads back, close their eyes and I swear a little smile goes across their mouth. If I stop too soon, they give me that look, like "really?" I need more!

Training: All puppies need training! The Tibetan is a joy to train due to their eagerness to learn, fun personality and spunk! They are sometimes the clown of the class, yet the best in the class! We always say, even though they are soooo cute as puppies, if you want a wonderful, well behaved dog, you need to start young, be consistent and take the time to train. I have yet to meet a dog that was a "bad" dog. Rather as you talk to the owner of a "bad" dog, the lack of training is always there! Please take the time to train your dog. Go to training classes, you will be the proud owner of a well behaved dog if you take the time and invest it into your new puppy. You will then have the "good" dog and will be the "good" owner.

Male or Female? I have yet to determine what is the better..... go with the personality of the puppy. Talk to the breeder, they will know the temperaments of the puppies and will be able to help match one to your family. We know our puppies inside and out. We know the little things about them because we have worked with them, spent time with them and appreciate them for who they are. There are some personalities that are better for different situations. We are more than happy to give you this input when selecting a puppy from us. I have some people ask me, how in the world can you tell them all apart- and to me it is just like kids, they are all are unique and different and you know "them" by who they are as individual puppies.

Registration: All of our puppies are sold with limited AKC registration and on a spay/neutered contract. We are breeding for families to have a smaller, fun, healthy, wonderful, allergy friendly, non-shedding companion pet. If you want full registration, we will need to talk.

---